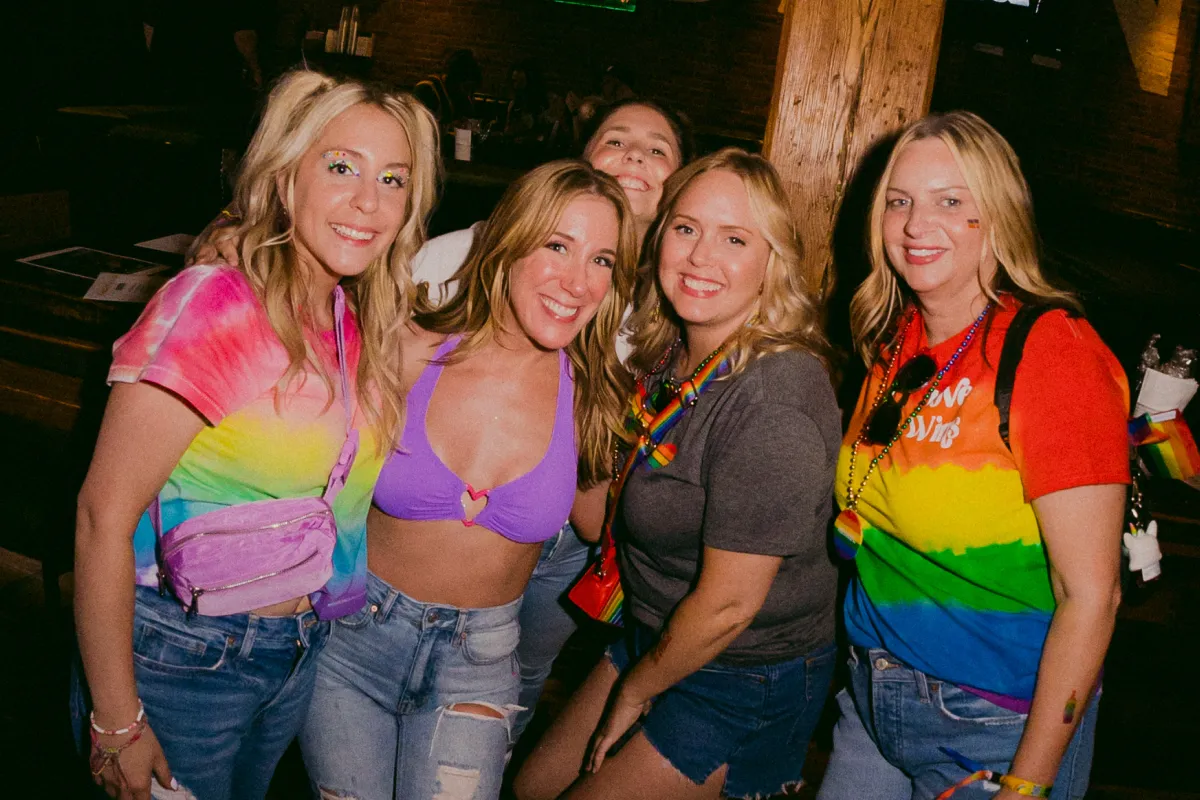 What to do for Pride Month
Your Go-To Pride Month Guide
Ah, June - the month when the sun is shining, flowers are blooming, and people all over the world are celebrating one of the most important (and best) event of the year: Pride Month. Whether you identify as LGBTQ+ or are an ally, it's an excellent opportunity to show your support for the community, and what better way to do it than by attending a Pride Month event, celebrating Pride in unique and creative ways, or throwing a Pride party of your own. In this blog, we will discuss what does it mean to show your pride and how to show your LGBTQ+ activism during Pride Month. We will help you by providing fun and exciting ways on how to show your love and support for the LGBTQ+ community. From bar crawls to drink ideas, we've got you covered because let's be honest, who doesn't love a good LGBTQ+ celebration filled with rainbows, glitter, and joy?
Pride Month Celebration Ideas
Before we get into the specifics of what to do during Pride Month, let's talk about what type of event is pride. Pride Month is a month-long celebration of the LGBTQ+ community that takes place every June to commemorate the Stonewall riots in New York City in 1969. These riots were a turning point for the gay rights movement, and they sparked a wave of activism that has continued to this day.
Today, Pride Month is a time for celebration and visibility, a chance for LGBTQ+ people to come together and be seen and heard. It's an opportunity to raise awareness about the challenges that the community faces and to celebrate the progress that has been made. We've been thinking a lot about Where Is The Biggest Pride Event? And How can we top it! It is a hard one to beat because the largest Pride event in the world is the São Paulo Gay Pride Parade, held annually in São Paulo, Brazil. It began in 1997 and has grown to become the largest Pride parade in the world, with an estimated 3 million people attending in 2019. The parade takes place in Avenida Paulista, one of the city's main thoroughfares, and features music, performances, and a variety of floats and costumes. The event has become a symbol of LGBTQ+ visibility and activism in Brazil, and attracts visitors from all over the world.
What Activities To Do For Pride Month?
There are many ways to celebrate Pride Month, from attending parades to participating in community events. Here are some of our favorite Pride Month event ideas and ways to get in the Pride Month SPIRIT.
Attend a Pride parade: Pride parades are a staple of Pride Month, and they are a fantastic way to show your support for the LGBTQ+ community. Many cities around the world hold Pride parades during June, so be sure to check your local listings to find out when and where the parade is taking place.
Go on a Pride-themed bar crawl: Another fun way to celebrate Pride Month is to go on a bar crawl hosted by Bar Crawl LIVE! with your friends. Pride Bar Crawls will have discounted Pride-themed drink, shot, food, and beer specials. Free entry to the best venues in the city, DJ's to dance the day away while celebrating Pride with friends! Volunteer at a local LGBTQ+ organization: If you're looking for a more meaningful way to get involved, consider volunteering at a local LGBTQ+ organization. Many organizations need volunteers to help with events, fundraising, and other activities, so reach out to see how you can help.
Create A Pride Month Playlist: Another fun idea is to create a Pride playlist filled with all your favorite LGBTQ+ anthems. Think Lady Gaga's "Born This Way" or Whitney Houston's "I Wanna Dance With Somebody". And don't forget to include some newer hits too, like Lil Nas X's "Montero (Call Me By Your Name)" or Troye Sivan's "My My My!". You'll have everyone dancing and singing along in no time.
Volunteer in the Pride Community: Of course, no Pride celebration would be complete without some activism. Consider partnering with a local LGBTQ+ organization and hosting a fundraiser or awareness event. It's a great way to give back to the community and make a difference, while also having a good time.
Donate to a an LGBTQ+ organization such as the Trevor Project. A proceed of all ticket sales go to the Trevor Project to show support for the LGBTQ community Attend a drag show: Drag shows are a staple of LGBTQ+ culture, and they are a great way to have a good time and support the community. Many cities have drag shows during Pride Month, so be sure to check your local listings to find out when and where they are happening. Bar Crawl LIVE! Hosts a drag show during the Pride Bar Crawl! Participate in a virtual event: If you're unable to attend an in-person event, consider participating in a virtual Pride Month event. Many organizations are hosting virtual events this year, including concerts, dance parties, and more.
Host A Pride Movie Night: If you're looking for something a little more low-key, why not host a movie night? There are so many great LGBTQ+ films out there, like "Love, Simon" or "The Birdcage". And if you want to add some extra flair, make it a double feature and throw in a classic like "Priscilla, Queen of the Desert". Just make sure you have plenty of popcorn and snacks on hand!
Pride Month Party Ideas - How To Host A Pride Month Party Of Your Own
How do you have a Pride party? Simple… You can host a pre-game for the Pride Parade or Pride Bar Crawl or simply have a few friends over for a Pride weeknight celebration or Pride movie night! If you're looking to celebrate Pride Month with a party of your own, here are some tips to help you plan the perfect event: Let's start with the basics: rainbow everything! From rainbow streamers to rainbow food, there's no such thing as too much color when it comes to Pride. And if you really want to go all out, why not throw a rainbow-themed costume party? It's a great way to let loose and express yourself, while also showing off your creativity. Head to Party City and pick up some some rainbow-themed event decorations to add for your party, such as rainbow streamers, balloons, and banners.
Drinks: Serve Pride-themed cocktails, such as a rainbow margarita or a Pride punch. You can also create non-alcoholic options, such as a rainbow smoothie. Food: Offer a variety of rainbow-colored snacks, such as fruit skewers, veggie platters, and cupcakes with rainbow frosting.
Entertainment: Play LGBTQ+ themed movies or music, or have a drag performer or DJ come to your party to entertain your guests. Pride Month Drink Ideas Here are some pride drink ideas to get the party started this June!
Rainbow Margarita
Ingredients: 1 oz. tequila 1 oz. orange liqueur (such as Cointreau or Triple Sec) 1 oz. lime juice 1 oz. simple syrup 1 oz. blue curaçao Ice Salt (optional) Lime wedges (for garnish) Instructions:
Instructions Rim a margarita glass with salt (optional). In a cocktail shaker, combine tequila, orange liqueur, lime juice, and simple syrup. Add ice and shake until well chilled. Pour blue curaçao into the bottom of the glass. Carefully strain the margarita mixture on top of the blue curaçao. Garnish with lime wedges and serve immediately.
Pride Sangria
Ingredients: 1 bottle of red wine 1/4 cup of brandy 1/4 cup of orange liqueur 1/4 cup of raspberry liqueur 1/4 cup of simple syrup Sliced fruit (such as oranges, lemons, limes, strawberries, and blueberries) Club soda (optional) Ice Instructions: In a large pitcher, combine red wine, brandy, orange liqueur, raspberry liqueur, and simple syrup. Stir well to combine. Add sliced fruit to the pitcher and stir again. Chill the sangria in the fridge for at least an hour. When ready to serve, fill glasses with ice and pour sangria into each glass. Add a splash of club soda (optional) for some fizz. Garnish with extra fruit and serve immediately.
Rainbow Jello Shots
Ingredients: 1 package of red Jello 1 package of orange Jello 1 package of lime Jello 1 package of green Jello 1 package of blue Jello 1 package of purple Jello 6 cups of boiling water 2 cups of cold water 2 cups of vodka (optional) Instructions: In separate bowls, prepare each color of Jello by combining 1 cup of boiling water with 1 package of Jello. Stir until the Jello is fully dissolved. Add 1/3 cup of cold water (and 1/3 cup of vodka, if using) to each bowl of Jello and stir. Pour the red Jello mixture into a large baking dish and chill in the fridge for 20 minutes. Once the red layer has set, repeat step 3 with the orange Jello mixture. Continue layering each color of Jello until all six colors are used and the baking dish is full. Chill the Jello in the fridge for at least 2 hours, or until completely set. To serve, cut the Jello into squares or use a cookie cutter to make fun shapes. I hope you enjoy these Pride-themed drink ideas! Remember to drink responsibly and have a great time celebrating Pride!
Celebrate Pride With A Pride Bar Crawl
Get ready to paint the town rainbow and celebrate Pride Month like never before! It's time to put on your most colorful attire and try out a Pride bar crawl that's bound to be the talk of the town.
We're bringing together the city's most vibrant and inclusive bars and venues for a night of non-stop fun and celebration. You'll have the chance to enjoy discounted drinks, meet new people, and dance the night away to beats that'll keep you grooving all night long. Whether you're a seasoned bar crawl veteran or a first-time participant, this is one event you won't want to miss. So, gather your friends and get ready to strut your stuff in support of the LGBTQ+ community.
Tickets are available now, so don't wait to grab yours! You'll get a wristband for discounted drinks and access to some of the city's most exciting bars and venues. Join us for a night of rainbows, laughter, and unforgettable memories. Let's show the world that love is love, and we're here to celebrate it in style! Find a pride month bar crawl event near you!