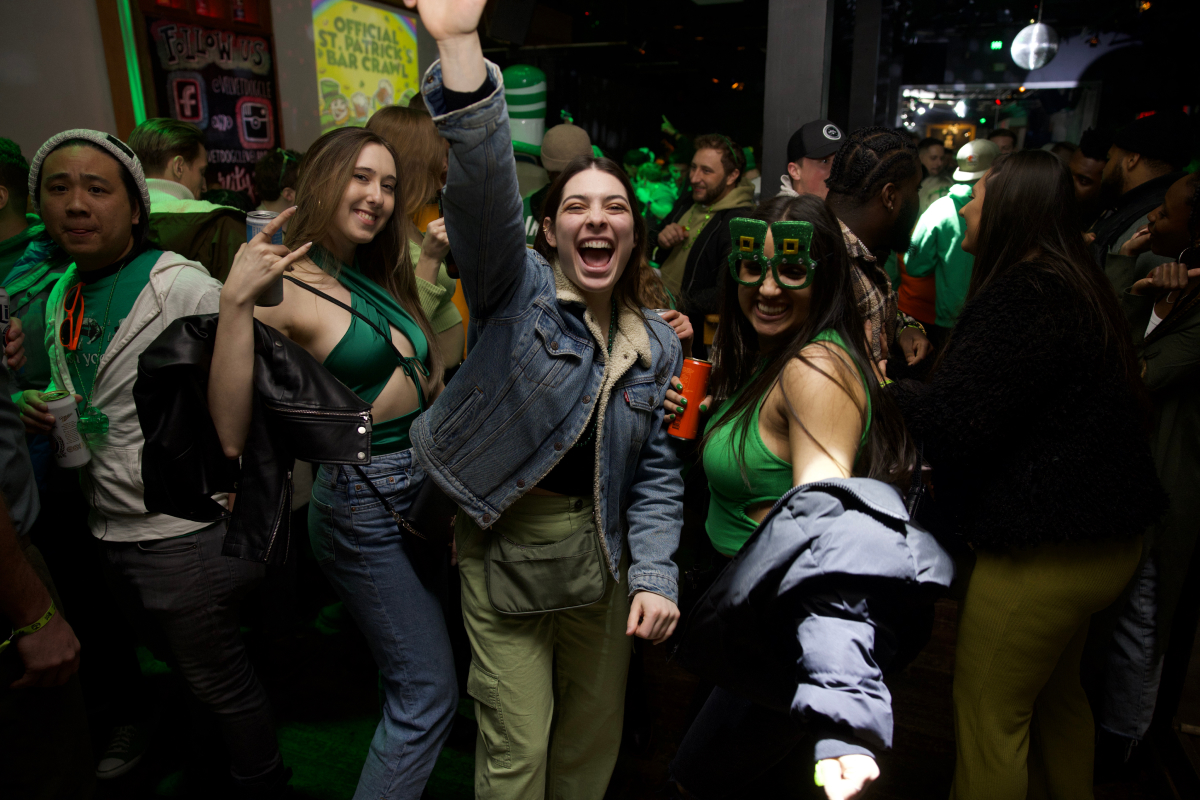 What Is A Bar Crawl?
If you're someone who loves exploring and trying out different bars and nightlife scenes, you might have had the following questions of exactly what is a bar crawl, what is a pub crawl, or what is bar hopping. To put it simply, bar crawling, bar hopping, and pub crawlling are essentially the same thing. The reason why you might want to attend a bar crawl is that it is an organized event hosted by a Event organizer. Attending a Bar Crawl can be a great way to potentially celebrate your favorite themes and holidays, try out new bars, pubs, nightclubs, and restaurants, and meet new people along the way. But that still doesn't fully answer the question of whats a pub crawl event or what is the definition of bar crawling and what makes it different from bar hopping or a night out on your own? We will dive deeper into the logistics and explore the basic definition of a bar crawl, its history, and some tips and tricks on how to make the most of your experience should you wish to join in on the festivities.
Why Is It Called A Bar Crawl?
The term "bar crawl" is believed to have originated in the UK in the early 20th century, where it was initially used to describe a pub crawl - a similar activity where people visit multiple pubs in a single night. The term "bar crawl" became more common in the US in the 1980's and 1990's and is now used worldwide. The term "crawl" refers to the slow and steady pace of moving from one bar to another, as opposed to rushing or sprinting. Bar Crawls are simply a fun and exciting way to be social with friends and experience something new!
What Is A Bar Crawl Event?
A bar crawl event is a planned and organized activity that involves visiting multiple bars or pubs in a single night. Bar crawl events can be organized by a variety of entities, including commercial tour operators, social clubs, and charity organizations. These events can be open to the public or limited to a specific group of participants. Bar crawl events often have a specific theme or purpose, such as celebrating a holiday, promoting a local business, or raising funds for a charity.
Why Is It Called Bar Crawling?
A bar crawl is an event where a group of people visit multiple bars or pubs in a single night, typically with the intention of trying different drinks and socializing with others. The participants or "bar crawlers" usually move from one bar to another on foot, either following a pre-planned route or deciding spontaneously which places to visit from set bar list or bar lineup. A bar crawl can be organized by anyone, however, Bar Crawl LIVE! Events are the Official Bar Crawl Organizer in every major city.
What Is The Difference Between Bar Hopping And Bar Crawling?
The terms "bar hopping" and "bar crawling" are often used interchangeably, but there are some slight differences between them. Bar hopping usually refers to visiting multiple bars or venues in a single night, but the focus is on visiting specific bars or neighborhoods rather than trying different drinks. Bar crawling, on the other hand, is all about trying different drinks and exploring new bars. Bar crawls are often organized around a holiday or theme, such as Halloween, St. Patrick's Day, Pride, Cinco De Mayo, or The Holiday Season.
How Do You Survive A Bar Crawl?
Bar crawls can be a fun and exciting way to explore a new city or nightlife scene, but they can also be challenging if you're not prepared. Here are some tips to help you survive a bar crawl:
Read The Communication Beforehand: The Bar Crawl Organizer will most likely send out information to you via email before the Crawl to know where and when to go to check in and register.
Arrive On Time: If you arrive late to registration you might miss out on some of the fun.
Pace Yourself: It's essential to pace yourself and drink responsibly during a bar crawl.
Stay Hydrated: Drinking plenty of water can help you stay hydrated and reduce the risk of a hangover the next day and help with your overconsumption of alcohol during the Crawl.
Eat Beforehand: Eating a substantial meal before the bar crawl can help absorb alcohol and prevent you from getting too drunk too quickly.
Dress Comfortably: Wear comfortable shoes and clothing that allows you to move freely and stay cool.
Stay Safe: Stick together with your group, and make sure to have a designated driver or plan for transportation at the end of the night.
Conclusion
In summary, a bar crawl is an event where a group of people visit multiple bars or pubs in a single night. Now that you know what a bar crawl is, find an awesome bar crawl event in your city