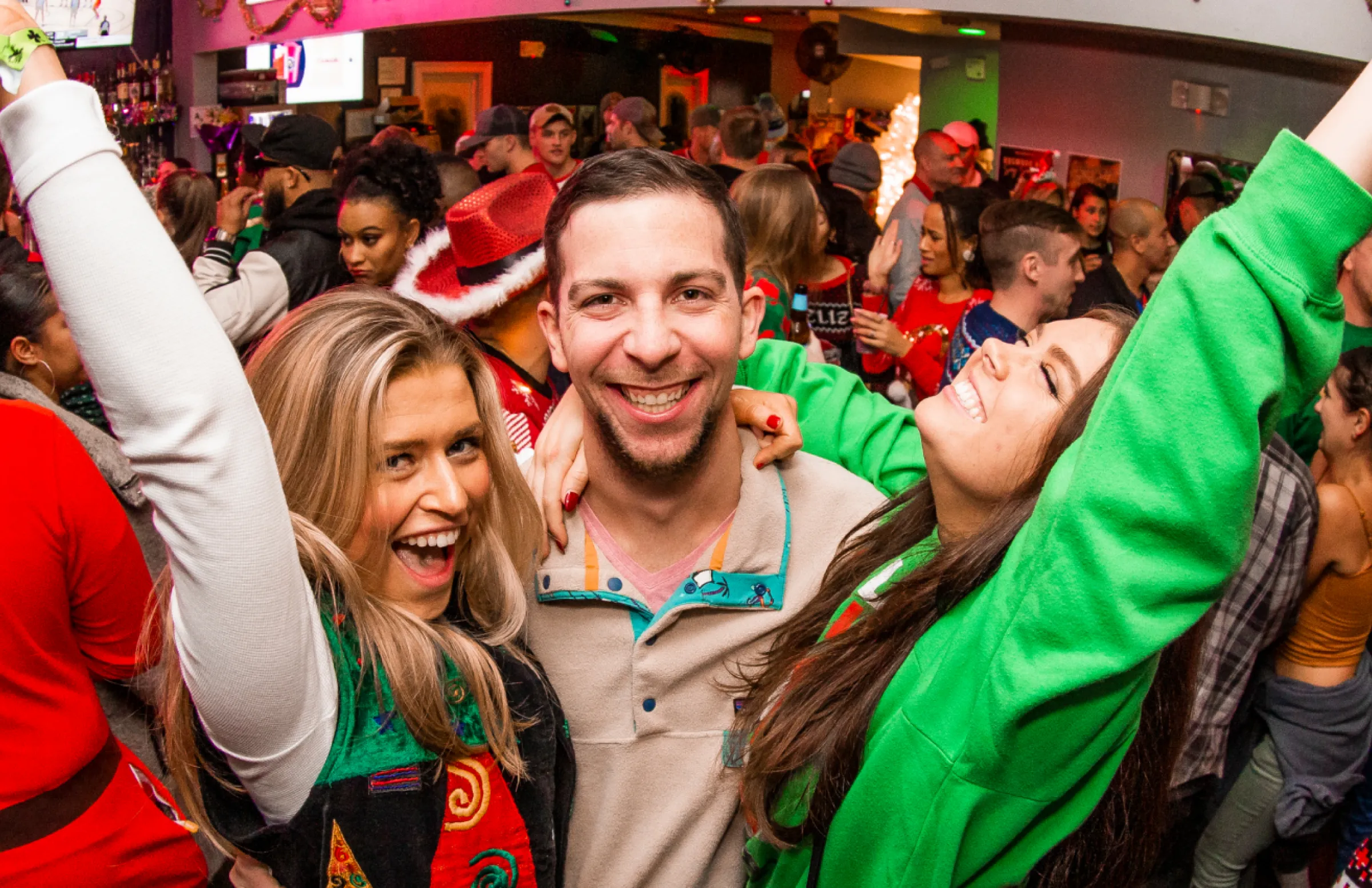 Budgeting for a Bar Crawl: How Much Money You'll Need for Drinks and More 🍻
Fellow Party People… Planning for a bar crawl? Nice. But before you hit the town, let's get real about the budget. I know, I know, nobody wants to talk numbers before a party, but trust me, your wallet will thank you later. So here's the lowdown:
The Golden Ticket
Deals Galore: With a bar crawl ticket, you get a special wristband that unlocks exclusive deals on drinks and food at all of the participating venues. We're talking discounts that can seriously add up over the night. Those drinks and nibbles can get pricey, so these wristband deals can make the ticket essentially pay for itself.
Party with the Masses: You know what's better than partying with a few friends? Partying with hundreds of them! Organized bar crawls like those put together by Bar Crawl LIVE! ensure you're in good company. Ever walked into a bar with a hundreds of people all dressed the theme? Trust us, it's a vibe.
No Ticket, No Party: We set up bar crawls during the times that the bar is normally not open. We make sure the bar is staffed and hoppin. No ticket, no wristband, no deals, and definitely no entry. Buying a ticket isn't just a formality; it's your entry into maybe the best party of your life!
Variety of Options: From basic entry to VIP tickets to certain crawls, getting a ticket for our bar crawls offer different tiers to suit your budget and party style. And with group deals, you can bring the whole squad along for less. Pro Tip: Buy Early for the best price!
Ease and Excitement: Organizers take care of all the planning. You just show up and follow the party. With themes, special events, and even surprises, a ticket can transform an ordinary night into a legendary one.
Basic Entry
The closer we are to the Crawl, the more expensive the ticket is. As soon as we sell out at a price tier, the price increases. If you buy early enough, you could snag a $10 or $15 ticket. However, if you wait until last minute or end up buying at the door (if we aren't sold out that is) you could have to pay anywhere from $40 to $60 bucks depending on the Crawl Theme and City. So let's just say $15 to $50 for tickets.
Group Deals: Going with friends? Look for group discounts. It never hurts to ask!
Cover Charges: Not feeling like getting a ticket for a bar crawl. Ok. Thats fine. But make sure you budget for the door cover charges. Each bar will charge you to get in though. You should plan on having to pay a cover charge ranging from $5 to $20.
Drinks: The Star of the Show 🍹
Bar Crawl Drink Specials: Luckily, all bar crawlers get discounts on drinks with a wristband. Simply show your wristband to the bartender when ordering drinks to make sure you get the exclusive price. Normally, there are a few discounted shot options, themed drinks on special, a few discounted beers, and sometimes food.
Standard Drinks: We like to pack at least 5 venues per crawl. You will most likely grab at least 1 drink per venue. Depending on the city and venue, expect to pay $5 to $15 for drinks, shots, beers, seltzers, or well drinks. For a five-stop crawl, that's a range of $25 to $75.
Cocktails and Specialties: Not looking to get a standard drink or a discounted drink on special? More of a top shelf kind of girl or gal? Totally understandable and it could help your hangover the next day too! Less sugar the better! These can cost ya anywhere from $10 to $20 per drink. If you plan on indulging, set aside a bit more in your budget.
Food: Fuel for the Journey 🍔
Bar Crawl Food Specials: Your wristband gets you some discounts on snacks and apps along the crawl. Make sure to check the Digital Bar List for which venues are offering specials on food and what the food items are. Oh and if you have allergies, make sure to mention them to the bartender before ordering!
Appetizers: Planning on snacking along the route? Us too! Budget $15 to $30 total for snacks along the crawl.
Late-Night Bites: The after-party hunger is real! Save $10 to $20 for a food truck visit or a late night taco bell run.
Pre-Eat Strategy: Eating a meal before you go out can also cut down on costs. We really don't recommend drinking on an empty stomach! The more you eat, the more you can drink… hopefully! Haha!
Tips: Showing Appreciation 💸
Tipping Etiquette: Bartenders work hard to keep the party going. Aim to tip 15-20% of your total bill. Being generous with your tips ensures good vibes and better service. Who knows, the bartenders could be generous with your drink pours too…
Ride: Getting Around 🚖
The Free Route: You could always snag a ride to and from crawl from friends or family. Thats always the best and we are sure they will have a story or two to tell from picking you up after a few drinks. No one wants to be the DD in the group but if you have a friend that's willing, take them up on it! Maybe even offer for you to buy their ticket… because, yes, they will need to buy a ticket. Remember, all the bars are close by each other so you don't need to worry about transportation during the event.
Rideshares or Taxis: Depending on your location and distance, budget around $10 to $20 for safe rides split with friends.
Public Transportation: It's an option…often cheaper. Know your local fares, and be prepared.
Extras: The Unexpected Stuff🌟
Souvenirs: If you know you are a drunk spender, you might want to have a little extra cash in your pocket for that Halloween LED Mask at check-in but budgeting for surprises means you can fully embrace spontaneity.
Bottle Service: Depending on the theme and city, sometimes venues offer discounts on bottles, table service, hookahs, and more.
Emergency Funds: Unplanned events happen. Having an extra $20 to $50 gives you peace of mind.
Example Bar Crawl Budget 💰
Communicate with friends, choose your venues wisely, and tailor your budget to ensure a night tailored just for you. Here's the breakdown for an average night, five stops, mix of drinks:
Wrapping It Up
Here's a summary of how much you should budget for a bar crawl!
Tickets: $15 to $50
Drinks: $25 to $75
Food: $15 to $30
Tips: $10 to $20
Rides: $10 to $20
Extras: $20 to $