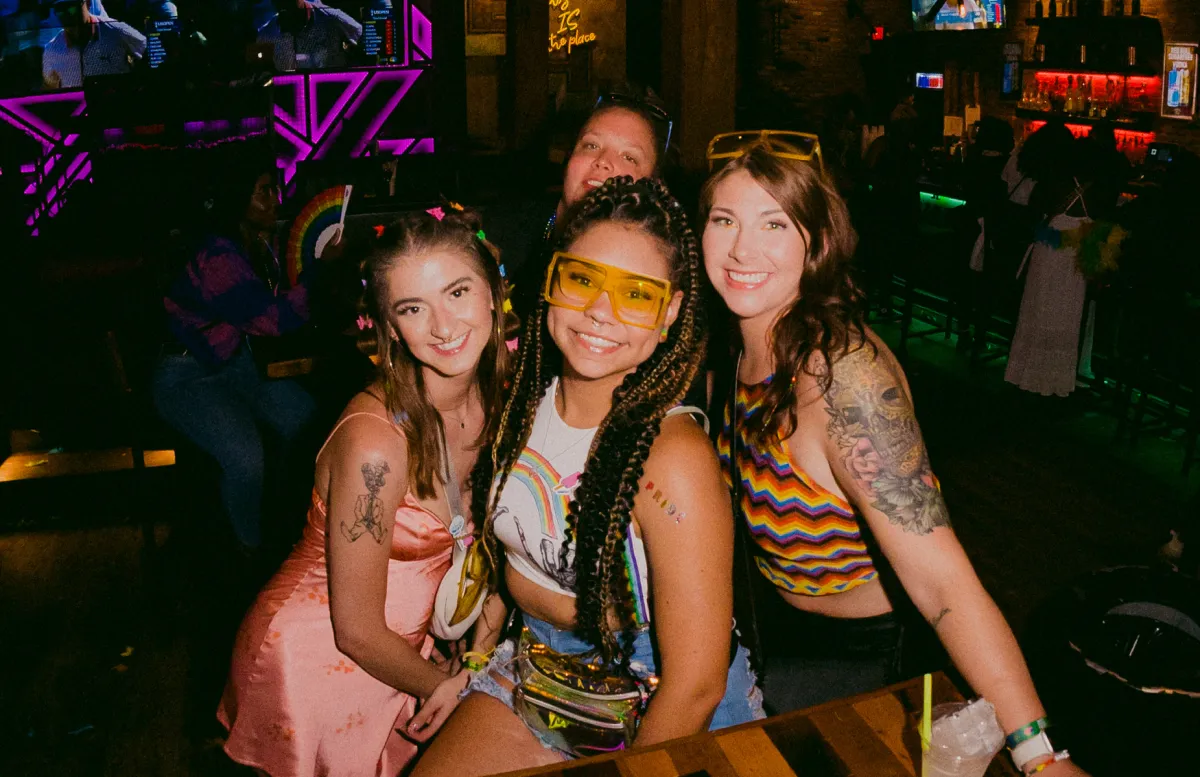 Are Bar Crawls Worth It: Pros and Cons of Bar Crawls
You might have seen an ad for a Bar Crawl while scrolling through your Instagram feed and thought "Are bar crawls worth it?" "How does a bar crawl work" or "Should I go on a Bar Crawl". We are here to bring you the Bar Crawl basics on whether or not it is worth the money for a ticket and what to expect to make the most of the experience.
First, let's start with the basics…Well, it's simple! A bar crawl is an organized event that takes participants to multiple bars or pubs throughout a designated area. At each location, participants are given a set amount of time to enjoy a drink or two and socialize with fellow participants before moving on to the next stop.
But what can you expect at a pub crawl? Well, expect a night full of fun, laughter, and new experiences. Our bar crawl events are all about creating a welcoming and inclusive environment where participants can enjoy a night out with friends or make new ones.
Cons Of A Bar Crawl
Might as well dig into it. We are all about transparency at Bar Crawl LIVE! So we are here to bring you the truth. Bar Crawl LIVE! Aims to give ticket holders the best nightlife experience however we are going to make you aware of some of the mistakes past ticket holders have made so you don't make them too!
Bar Crawl Ticket Price Obviously, the elephant in the room is the ticket price. "Why do I have to pay for a bar crawl ticket when I could just walk in the same bar at any other point in time?" Well, when you purchase a ticket to a bar crawl you are buying the entire experience. You are purchasing not only a ticket but the marketing costs to get you to purchase that ticket, the hundreds of other people at the venue, the wristband, the event staff, the discounted drink and food specials, the DJ, the cleaning crew, should we keep going? We guarantee you wouldn't get the full experience any other night…
Capacity and Lines Think about it this way… the venues are opening their doors at a time when they are usually not open. They have to staff the bar, provide security outside, etc. Normally, bars also charge a cover to anyone walking through their doors too. Ticket holders with a Bar Crawl LIVE! Wristband get in free of charge and prioritized in the line. (Keep in mind, if there is a line or if the venue is too crowded, that just means the venue is at capacity. Check out another venue on the Digital Bar List and have your friends meet you there. You can always come back to the most popular venue!)
The key to making sure you are getting the most bang for your buck for the price of the ticket is to get your tickets early. Think about which upcoming themes might sound the most exciting to you and get you and your friend's ticket early because the closer we are to the event the more the ticket prices will increase. We'd hate to see you have to pay full price or day-of price when you could take advantage of early bird sales when they come out!
Safety Concerns Bar crawls involve drinking alcohol, which can lead to safety concerns, especially if you are not careful or responsible. That is why we urge our ticket holders be responsible and only consume what they feel comfortable with and also to get a ride to our Bar Crawls.
In a group setting, there may be pressure to drink more than you are comfortable with or to keep up with others. If you would have 1 or none, we won't judge you. We want you to have a fun experience so if you are comfortable having a few, go right ahead but we don't want to pressure you at all. Do what you feel is best.
If you ever run into any issues with safety, please feel free to let venue management or our event staff know right away so we can do our very best to help make you feel more comfortable and safe.
Bar Crawl Scams Also, please be aware when you purchase tickets online. There are a ton of scam sites out there and we'd hate to see that happen to you. To keep things legit, purchase tickets from the Bar Crawl LIVE! Website only or the Bar Crawl LIVE! Eventbrite platform.
We guarantee that if you are choosing a company other than Bar Crawl LIVE! To be your bar crawl organizer you will find yourself disappointed. Other Event Organizers seem to over promise and under deliver.
And remember…If you are looking to have a good experience, you will usually have one. If you are expecting to be disappointed you will often find yourself there.
Pros Of A Bar Crawl Social Experience Bar crawls provide an opportunity to socialize with friends or meet new people who share similar interests. This can be especially beneficial if you are new to a city or looking to expand your social circle. Bar crawls are often organized around a specific theme, such as a holiday or a type of music, which can attract people with similar interests. Fun Atmosphere The lively atmosphere of a bar crawl can be a lot of fun, with music, dancing, and drinking games. The festive mood can be infectious and provide an enjoyable night out with friends. The variety of bars and clubs visited during a crawl can also provide a change of pace and keep the evening interesting.
Variety Bar crawls offer the chance to visit multiple bars or clubs in one night, providing a diverse experience. This can be especially appealing if you are looking to explore different types of bars or clubs, or if you want to experience different neighborhoods or areas of a city.
Now, you may be wondering, "How many pubs are good for a pub crawl?" While there is no set number, we typically aim for 4-5 stops. This ensures that participants have enough time to enjoy each location while also providing a manageable timeframe for the entire event. Exploration Bar crawls can be a way to explore different neighborhoods or areas of a city that you may not have visited otherwise. This can be especially helpful if you are new to a city and want to get a sense of the local bar scene. Bar crawls can also be organized around a specific theme or culture, such as a pub crawl in an area with a strong Irish heritage.
Cost-Effective Since the price of a ticket for a bar crawl includes drink specials and discounts, it can be a cost-effective way to have a night out as long as you get your tickets early and take advantage of the bar crawl sales. This can be especially helpful if you are on a budget or looking to save money. Some bar crawls may also include other perks, such as food or merchandise, which can provide additional value. Additionally, bar crawls often have a fixed price, which can make budgeting for the evening easier.
We also offer free birthday tickets to anyone with a birthday during the month of the Crawl! Check Out Bar Crawl LIVE!s Summer Bar Crawls
We've broken it down for you but here's 5 reasons to consider getting to a Bar Crawl this summer. Celebrate Summer Summer is a time for fun and celebration, and what better way to kick off the season than by attending a bar crawl event? Our Cinco de Mayo Bar Crawl is a perfect way to welcome summer with open arms while enjoying some delicious margaritas and tacos. Embrace Diversity Our Pride Bar Crawl is an excellent way to embrace diversity and celebrate the LGBTQ+ community during Pride month. You'll be surrounded by a welcoming and inclusive environment that celebrates love, equality, and acceptance. Dress Up Summer bar crawl events are the perfect excuse to dress up and show off your summer style. Wear your favorite summer outfit or dress up in a festive Cinco de Mayo or Pride-themed outfit and get ready for a night full of fun and celebration. Support Local Businesses Our bar crawl events are designed to showcase some of the best bars and pubs in the area. By attending our events, you'll be supporting local businesses and helping to promote the vibrant nightlife scene in your community. Make Unforgettable Memories Summer bar crawl events are all about having fun and making unforgettable memories. You'll be surrounded by like-minded people who are ready to let loose and have a good time. Whether you're dancing the night away or enjoying a refreshing cocktail, you're sure to create lasting memories that you'll cherish for years to come.
So, there you have it - five fantastic reasons why you should attend our upcoming summer bar crawl events, such as the Cinco de Mayo Bar Crawl and Pride Bar Crawl. Don't miss out on the fun, and be sure to check out our events page for more information on how to join in on the festivities!
Conclusion So, should you go on a bar crawl? Absolutely! The best way to know anything is to try it for yourself! Bar crawls are a great way to experience new bars and socialize with like-minded individuals. Whether you're new to the area or just looking for a fun night out, a bar crawl is the perfect way to explore and meet new people.
Now that you have the facts, check out our upcoming bar crawl events this summer!
We can't wait to see you there! https://www.barcrawllive.com/themes/pride-bar-crawl